My Story
April 7, 2006 I was kidnapped by a former client who forced me to drive through two counties to an abandoned farm where he tried to force me behind a barn to rape and stab me to death.
---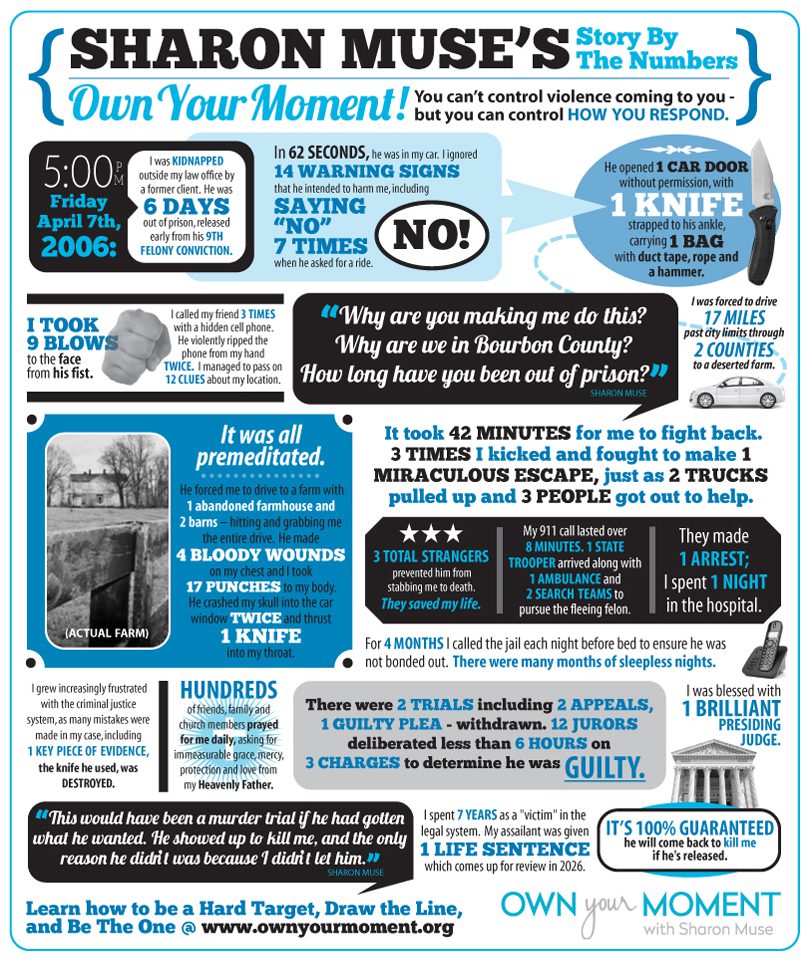 During the 62-second walk from my office door to the car, my intuition picked up on more than 14 warning signs that I was in danger. But I ignored my gut and relied on my logic which almost got me killed. He presented himself as a client in crisis and did not overtly show his sinister intentions until he had me under his control.
I was miraculously freed from my captor while he was pressing a knife into my neck and fought my way out of the car. As I struggled to escape, my captor promised that he would return to kill me. Once I bolted into the country road, two trucks stopped to help. I survived the "incident" as a result of specific acts of divine intervention combined with the selfless acts of three strangers.
After the first responders arrived, I thought my nightmare had ended. I was wrong. Enduring seven years as a voiceless victim in the criminal justice system was as traumatic as the incident itself. I fought within the system I knew well as a practicing attorney yet still had virtually no input in the process that was going to determine my entire future. Prosecutors, officers, investigators, defense attorneys, jurors, and a judge would all have an impact on determining my future, and I would have none. I had to sit back and watch other people decide my fate. Would they do their jobs properly? Would I be another statistic? Why was I unable to voice my opinions, thoughts, concerns, knowledge of the incident, evidence, etc.? I quickly learned that victims are at the mercy of a system designed to protect the rights of the defendant.
My life was spared on April 7, 2006. From that point, I lived in a prison of my own, built by the bars of fear knowing my attacker would return. Eventually God worked a healing in me at a spiritual retreat, allowing me to forgive the man who watched, hunted, and tried to kill me. Even then, I continued to battle the fear of dying at his hand. Watching the criminal justice system fail me repeatedly drove me to make alternate plans to keep myself safe upon his release from jail. I purchased and trained with firearms, began weight-lifting, and took self-protection classes. Most importantly, I trained my mind by learning to identify threats to my safety and giving myself permission to take appropriate physical responses to such threats.
Being raised in a polite society (one where everyone is kind and respectful to one another) with Christian values (showing the love of Christ by loving and serving others) and Southern hospitality (helping others when we are able) made it hard for me to identify the threat in time to protect myself. As a result of what I have learned, I am passionate about helping others stay safe. I want to teach people of all ages how to live a confident life, free from unreasonable fear, by understanding there are specific skills we can acquire to make ourselves hard targets. These concepts apply to any situation where we do not feel safe. Accepting the reality that predators exist and learning how to identify threats may help anyone deal with a potentially violent situation. The goal is to identify and escape before the violence begins. This is not always possible. When it is not, we may use our skills to increase our odds of survival.
The most important part was training my mind by learning to identify threats to my safety and giving myself permission to take appropriate physical responses to such threats.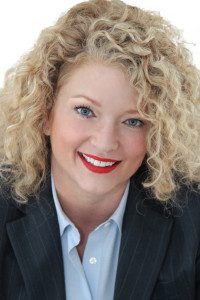 Sharon has a B.A. degree in Psychology from the University of Kentucky, a Juris Doctorate degree from Brandeis Law School at the University of Louisville and a variety of specialized training the legal field. Sharon has trained extensively in E.M.D.R., and the effects of trauma on the brain. She works with experts in the field of self-protection, trauma and grief counseling, and Christian leaders to help provide resources to those in need.
She has reduced her law practice in order to devote her time to: writing a book teaching others how to be a hard target in an effort to avoid being the victim of a crime; to assist victims in the criminal justice system as they navigate the process; and to experience the gift of forgiving our offender and all the benefits forgiveness has in store for those that embrace it.